Pork Chops with Goat Cheese Butter

Ingredients
1 1/2 tablespoons unsalted butter,softened
1 teaspoon chopped fresh thyme
1 teaspoon grated lemon rind, divided
1 teaspoon kosher salt, divided
3/4 teaspoon black pepper, divided
1 ounce goat cheese, softened (about 1/4 cup) 2 teaspoons olive oil
4 (4-oz.) boneless pork chops (3/4 in. thick)
10 ounce green beans, trimmed
1 medium shallot, thinly sliced
1/4 cup unsalted chicken stock (such as Swanson)
1 teaspoon fresh lemon juice
How to Make It
Step 1
Combine butter, thyme, 1/2 teaspoon rind, 1/4 teaspoon salt, 1/8 teaspoon pepper, and goat cheese in a small bowl; set aside. Heat oil in a large nonstick skillet over medium-high. Sprinkle pork chops evenly with 1/4 teaspoon salt and 1/4 teaspoon pepper.
Step 2
Add pork to pan; cook 3 minutes. Turn pork over, reduce heat to medium, and cook until done, about 4 minutes. Place pork on a plate (do not wipe out pan). Top each pork chop with about 2 teaspoons goat cheese mixture. Loosely cover pork chops, and keep warm.
Step 3
Add beans and shallot to pan; cook 1 minute. Increase heat to medium-high. Add stock; cover and cook 3 minutes. Uncover; cook until liquid evaporates, about 1 minute. Stir in remaining 1/2 teaspoon rind, remaining 1/2 teaspoon salt, remaining 3/8 teaspoon pepper, and juice.
Source:CookingLight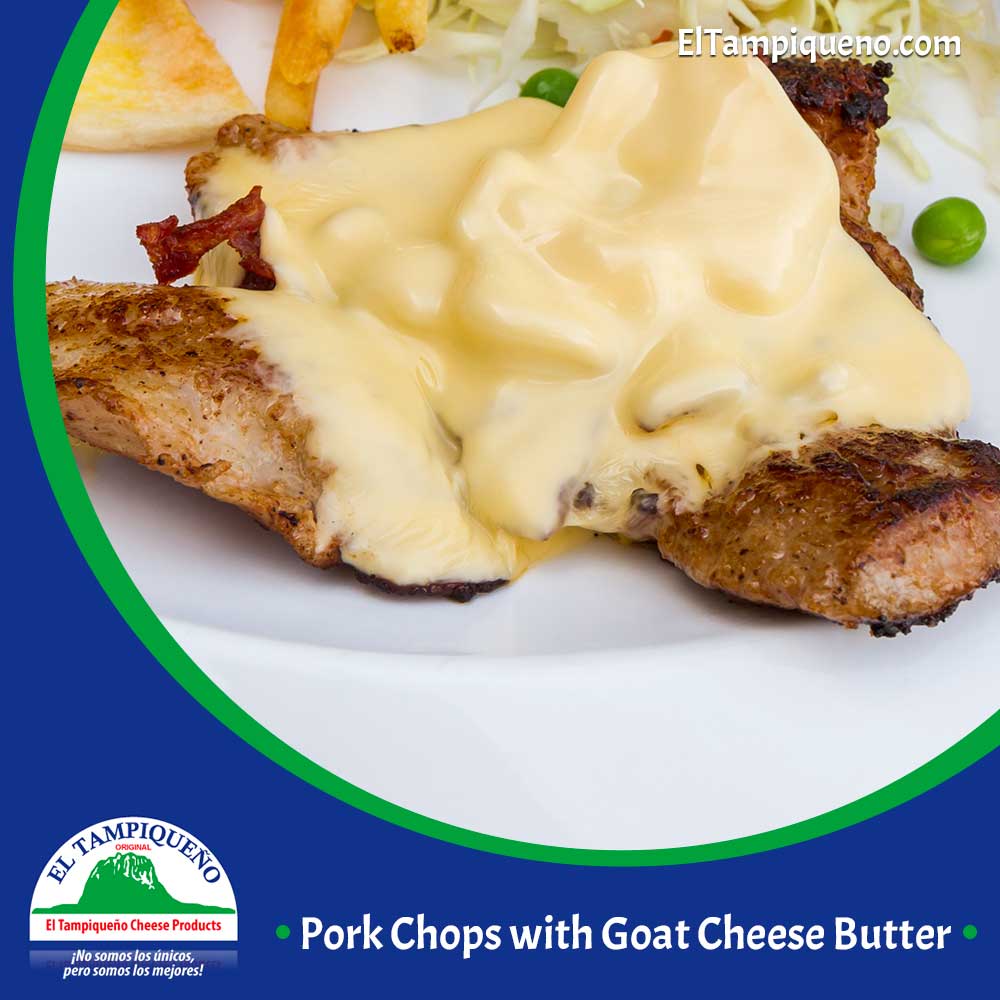 ---
CALL NOW AT (832) 206-1303 FOR A QUOTE, OR CONTACT US. El Tampiqueño Cheese Products is a family business dedicated to the production of typical regional cheeses and creams, which specializes in cheese, oaxaca cheese, grill cheese, Mexican cream and Salvadoran cream in different forms and sizes.
We cares personally and in detail each of the production process with the idea that each product is unique and made ​​with 100% natural product. If you prefer you can This email address is being protected from spambots. You need JavaScript enabled to view it.