Quesadillas with Oaxacan Cheese and Squash Blossoms

Ingredients
2 tablespoons olive oil
1/2 white onion, thinly sliced
2 garlic cloves, thinly sliced
Kosher salt
4 corn tortillas
2 ounces Oaxacan cheese or fresh mozzarella, grated (about 1/2 cup)
8 squash blossoms, stems and stamens removed
green onions
Instructions
Heat oil in a large skillet, preferably cast iron, over medium. Cook onion and garlic, stirring occasionally, until very soft and golden, 10–12 minutes; season with salt. Transfer to a small bowl and wipe skillet clean.
Toast a tortilla in the same skillet over medium-high until golden brown but not crunchy on one side, about 1 minute. Turn tortilla over and scatter one-quarter of cheese over one half of toasted side. Arrange 2 squash blossoms and one-quarter of onion mixture on top of cheese and fold tortilla in half to create a half-moon. Press down on it lightly to help tortilla adhere. Continue cooking, turning once or twice and pressing occasionally, until cheese is melted and tortilla begins to brown and crisp in spots (turn down the heat if needed), about 3 minutes. Transfer quesadilla to a plate. Repeat with remaining tortillas, cheese, squash blossoms, and onion mixture to make 3 more quesadillas.
Fuente: Epicurious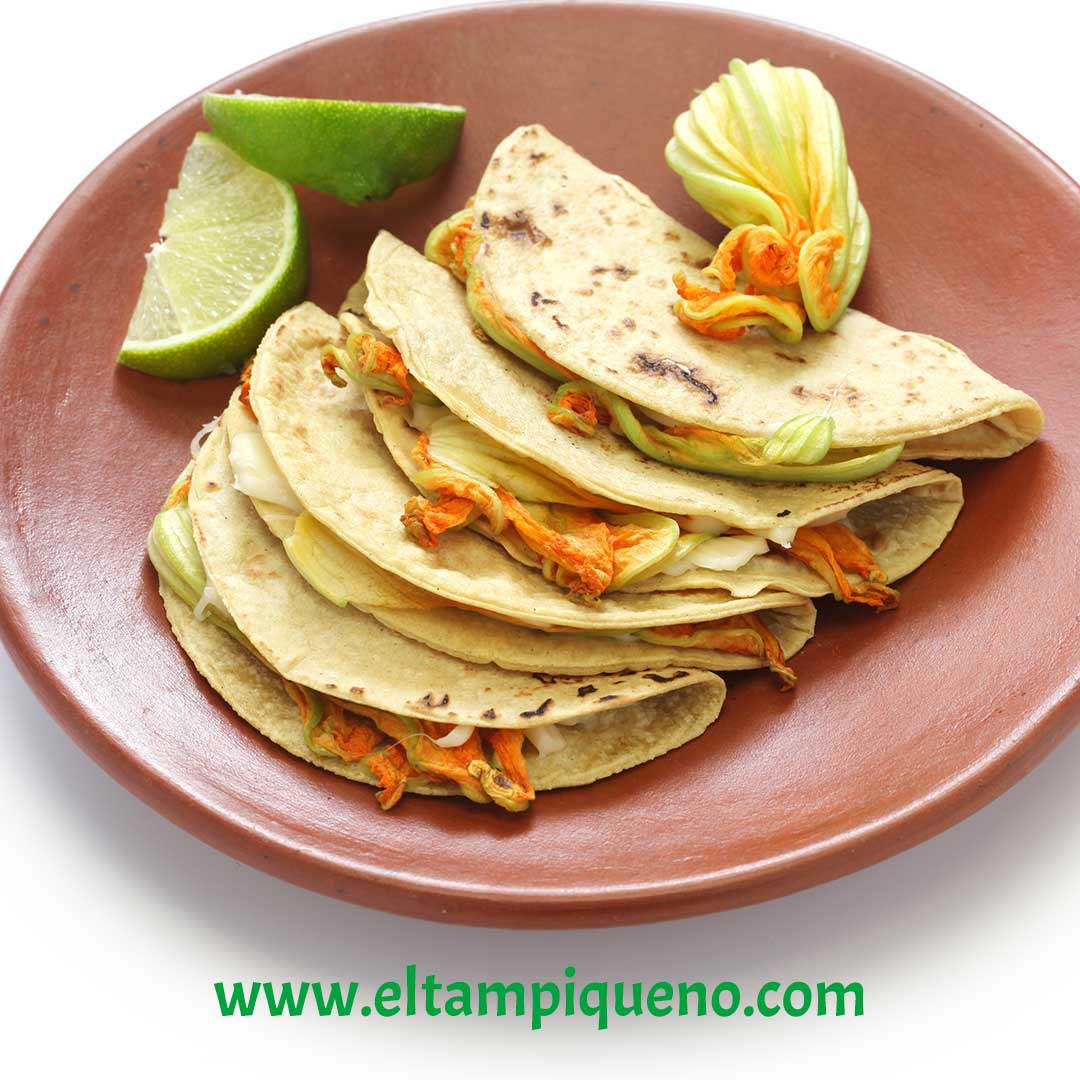 Mexican Fresh Cheese in Houston, Mexican Cheese in Houston, Oaxaca Fresh Cheese, Oaxaca Cheese, grilled Cheese, Salvadoran Cream, Mexican cream, grilleding Cheese, Creamery, Cow's Milk Cheese, Sheep's Milk Cheese, Goat's Milk Cheese, Cow's Milk Cream, Sheep's Milk Cream, Goat's Milk Cream, Sheep's Milk Cream, Goat's Milk Cream, Pasteurized Milk Cheese, Pasteurized Milk Cream, Fresh Cream Cheese, Cheese & Cream, Block Cheese, Grated Cheese, Sliced Cheese, Homemade Fresh Cheese, Homemade Fresh Cream, El Tampiqueño Cheese Products
---
CALL NOW AT (832) 206-1303 FOR A QUOTE, OR CONTACT US. El Tampiqueño Cheese Products is a family business dedicated to the production of typical regional cheeses and creams, which specializes in cheese, oaxaca cheese, grill cheese, Mexican cream and Salvadoran cream in different forms and sizes.
We cares personally and in detail each of the production process with the idea that each product is unique and made ​​with 100% natural product. If you prefer you can This email address is being protected from spambots. You need JavaScript enabled to view it.