Key Lime Cheesecake

Ingredients
1 1/2 cups finely ground graham cracker crumbs
2 tablespoons white sugar
1/4 cup unsalted butter, melted
1 1/4 pounds cream cheese, softened
3/4 cup white sugar
1 cup sour cream
3 tablespoons all-purpose flour
3 eggs
3/4 cup key lime juice
1 teaspoon vanilla extract
Directions
1.- To make Crust: In a bowl stir together the graham cracker crumbs and 2 tablespoons sugar, stir in the butter well. Pat the mixture into the bottom and 1/2 inch up the side of a buttered 10 inch springform pan and bake the crust in a preheated 375 degree F (190 degree C) oven for 8 minutes. Transfer the pan to a rack and cool.
2.- In a large bowl with an electric mixer, beat cream cheese and 3/4 cup sugar until smooth, beat in the eggs, one at a time, beating well after each addition. Beat in the sour cream, flour, lime juice and vanilla. Beat the mixture until it is smooth.
3.- Pour the filling over the crust. Bake the cheesecake in the preheated oven for 15 minutes, reduce the temperature to 250 degrees F (120 degrees C) and bake for 50 to 55 minutes longer, or until center is barely set. Let the cheesecake cool on a rack, then chill it, covered, overnight. Remove the cheesecake from the pan and transfer it to a cake stand.
Fuente: all recipes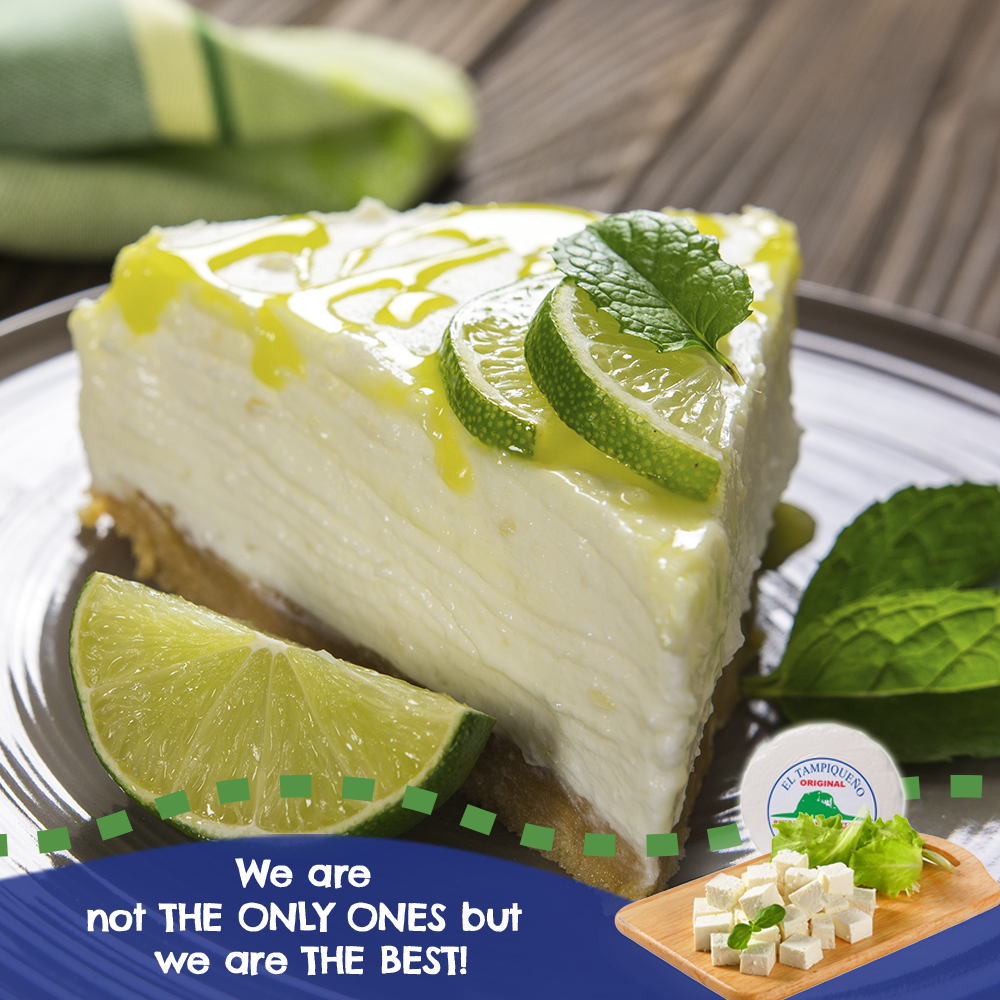 Mexican Fresh Cheese in Houston, Mexican Cheese in Houston, Oaxaca Fresh Cheese, Oaxaca Cheese, grilled Cheese, Salvadoran Cream, Mexican cream, grilleding Cheese, Creamery, Cow's Milk Cheese, Sheep's Milk Cheese, Goat's Milk Cheese, Cow's Milk Cream, Sheep's Milk Cream, Goat's Milk Cream, Sheep's Milk Cream, Goat's Milk Cream, Pasteurized Milk Cheese, Pasteurized Milk Cream, Fresh Cream Cheese, Cheese & Cream, Block Cheese, Grated Cheese, Sliced Cheese, Homemade Fresh Cheese, Homemade Fresh Cream, El Tampiqueño Cheese Products
---
CALL NOW AT (832) 206-1303 FOR A QUOTE, OR CONTACT US. El Tampiqueño Cheese Products is a family business dedicated to the production of typical regional cheeses and creams, which specializes in cheese, oaxaca cheese, grill cheese, Mexican cream and Salvadoran cream in different forms and sizes.
We cares personally and in detail each of the production process with the idea that each product is unique and made ​​with 100% natural product. If you prefer you can This email address is being protected from spambots. You need JavaScript enabled to view it.