Zucchini gratin with easy tomato sauce

Ingredients
2 teaspoons olive oil
1 onion, filleted
2 cups cherry tomato, for filling and decorating
4 cups zucchini, cut into medium cubes
1 cup tomato puree
1 pinch oregano
1 pinch salt
1 pinch black pepper
1 teaspoon thyme
1 cup Oaxaca cheese "El Tampiqueño", shredding
Preparation
1- Preheat the oven to 180 ° C.
2- Add in a deep bowl the filleted onion interspersed with cubed zucchini and cherry tomatoes, add a little oil to help the cooking and the Natural Tomato Puree, add the spices mix and season. Bake for 15 minutes, covering with aluminum foil until pumpkin is soft.
3- Remove from the oven and add the Oaxaca cheese so that it is gratinated with the zucchini and it will be ready when the cheese is soft.
Fuente: Kiwilimon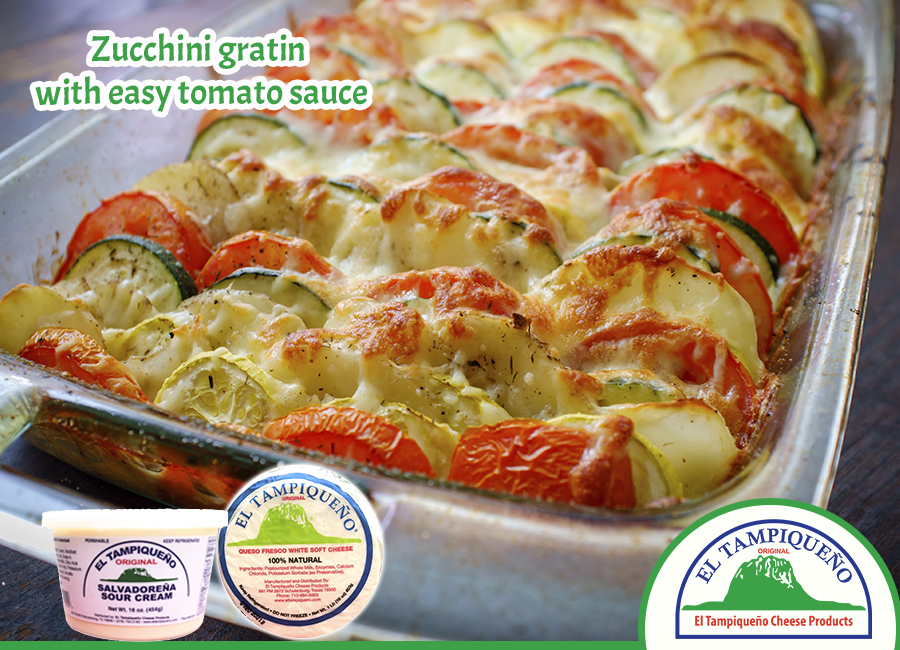 CALL US NOW AT (832) 206-1303 391 FM 2672, 📍 Schulenburg, TX 78956, EE. UU. or mail us This email address is being protected from spambots. You need JavaScript enabled to view it. FOR A QUOTE, OR CONTACT US HERE:
Mexican Fresh Cheese in Houston, Mexican Cheese in Houston, Oaxaca Fresh Cheese, Oaxaca Cheese, grilled Cheese, Salvadoran Cream, Mexican cream, grilleding Cheese, Creamery, Cow's Milk Cheese, Sheep's Milk Cheese, Goat's Milk Cheese, Cow's Milk Cream, Sheep's Milk Cream, Goat's Milk Cream, Sheep's Milk Cream, Goat's Milk Cream, Pasteurized Milk Cheese, Pasteurized Milk Cream, Fresh Cream Cheese, Cheese & Cream, Block Cheese, Grated Cheese, Sliced Cheese, Homemade Fresh Cheese, Homemade Fresh Cream, El Tampiqueño Cheese Products
---
CALL NOW AT (832) 206-1303 FOR A QUOTE, OR CONTACT US. El Tampiqueño Cheese Products is a family business dedicated to the production of typical regional cheeses and creams, which specializes in cheese, oaxaca cheese, grill cheese, Mexican cream and Salvadoran cream in different forms and sizes.
We cares personally and in detail each of the production process with the idea that each product is unique and made ​​with 100% natural product. If you prefer you can This email address is being protected from spambots. You need JavaScript enabled to view it.