Refried Beans with Cheese Oaxaca "El Tampiqueño"

Ingredients
¼ pound dry black beans
¼ pound dry red kidney beans
1 cup milk
3 tablespoons lard
2 tablespoons garlic powder
1 tablespoon salt
1 tablespoon ground ancho chile pepper
½ tablespoon ground cumin
1 pinch cayenne pepper
1 cup Oaxaca cheese "El Tampiqueño"
Directions
Step 1
Cover beans with 4 inches of water and soak for at least 12 hours, or overnight.
Step 2
Place the pot with beans and water on the stove and heat to a boil. Reduce heat to medium-low and simmer until much of the water has been absorbed and beans are soft enough to mash, about 2 hours.
Step 3
Crush the beans thoroughly with a potato masher. Simmer for 1 hour more.
Step 4
Take an immersion blender to the pot and pulverize the beans until there are no visible solids left. If any water remains, simmer until it evaporates and beans are reduced to a thick paste.
Step 5
Add milk, lard, garlic powder, salt, chile pepper, cumin, and cayenne and stir to combine. Cook for 10 minutes more.
Step 6
Meanwhile, preheat the oven to 400 degrees F (200 degrees C).
Step 7
Transfer beans to a casserole dish and sprinkle with Oaxaca cheese "El Tampiqueño". Cover with foil.
Step 8
Bake in the preheated oven until cheese is melted, about 20 minutes, removing foil at the 15-minute mark. Serve immediately.
Fuente: allrecipes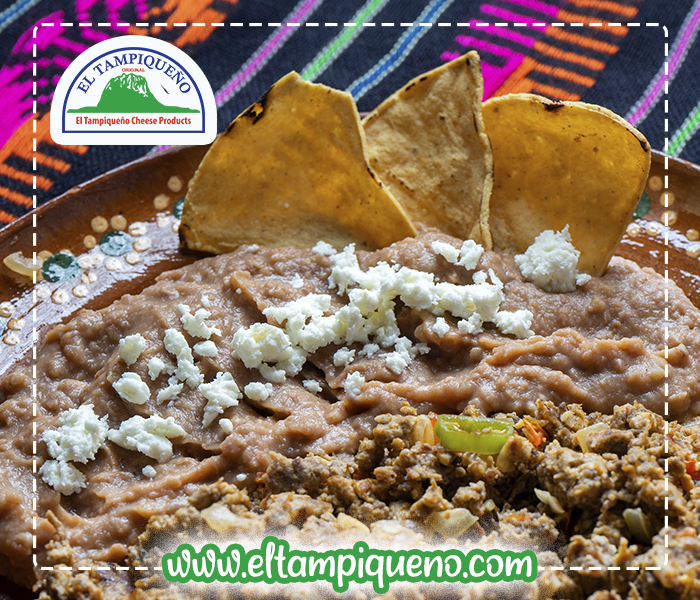 CALL US NOW AT (832) 206-1303 391 FM 2672, 📍 Schulenburg, TX 78956, EE. UU. or mail us This email address is being protected from spambots. You need JavaScript enabled to view it. FOR A QUOTE, OR CONTACT US HERE:
Mexican Fresh Cheese in Houston, Mexican Cheese in Houston, Oaxaca Fresh Cheese, Oaxaca Cheese, grilled Cheese, Salvadoran Cream, Mexican cream, grilleding Cheese, Creamery, Cow's Milk Cheese, Sheep's Milk Cheese, Goat's Milk Cheese, Cow's Milk Cream, Sheep's Milk Cream, Goat's Milk Cream, Sheep's Milk Cream, Goat's Milk Cream, Pasteurized Milk Cheese, Pasteurized Milk Cream, Fresh Cream Cheese, Cheese & Cream, Block Cheese, Grated Cheese, Sliced Cheese, Homemade Fresh Cheese, Homemade Fresh Cream, El Tampiqueño Cheese Products
---
CALL NOW AT (832) 206-1303 FOR A QUOTE, OR CONTACT US. El Tampiqueño Cheese Products is a family business dedicated to the production of typical regional cheeses and creams, which specializes in cheese, oaxaca cheese, grill cheese, Mexican cream and Salvadoran cream in different forms and sizes.
We cares personally and in detail each of the production process with the idea that each product is unique and made ​​with 100% natural product. If you prefer you can This email address is being protected from spambots. You need JavaScript enabled to view it.