Crostini with Fresh Cheese "El Tampiqueño" and Anchovy Sauce

INGREDIENTS
2 tablespoons butter
2 anchovy fillets, drained and chopped
1 tablespoon milk
1 baguette or 1 other crusty bread, cut into 1/2 inch slices
2 tablespoons olive oil
1⁄2 Fresh Cheese "El Tampiqueño" thinly sliced and patted dry
DIRECTIONS
1- Preheat broiler.
2- Combine butter, anchvies and milk in a small saucepan over low heat and cook, stirring for often for about 3 minutes or until anchovies dissolve, mashing with the back of a spoon. DO NOT BOIL.
3- Place bread slices on a cookie sheet.
4- Brush bread slices with oil and top with Fresh Cheese "El Tampiqueño" slices.
5- Broil until cheese melts and bread is crisp (3 minutes). BE CAREFUL IT COOKS FAST.
6- Transfer to a platter and drizzle sauce over crostini.
Fuente: FOOD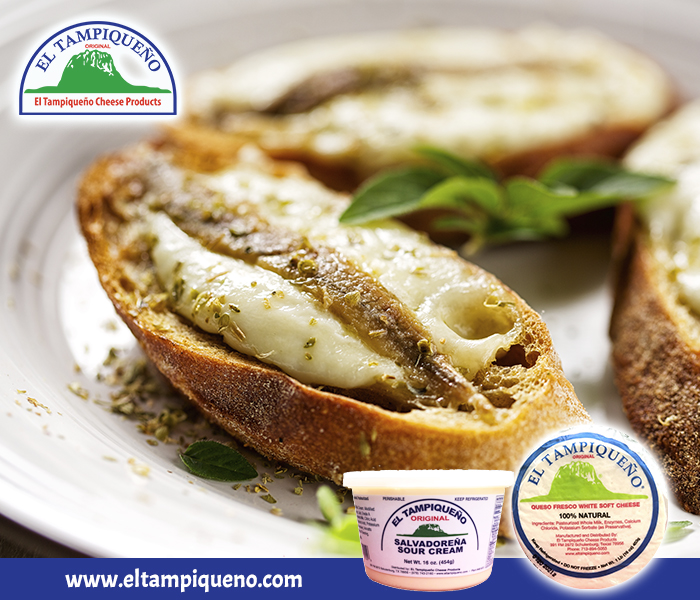 CALL US NOW AT (832) 206-1303 391 FM 2672, 📍 Schulenburg, TX 78956, EE. UU. or mail us This email address is being protected from spambots. You need JavaScript enabled to view it. FOR A QUOTE, OR CONTACT US HERE:
Mexican Fresh Cheese in Houston, Mexican Cheese in Houston, Oaxaca Fresh Cheese, Oaxaca Cheese, grilled Cheese, Salvadoran Cream, Mexican cream, grilleding Cheese, Creamery, Cow's Milk Cheese, Sheep's Milk Cheese, Goat's Milk Cheese, Cow's Milk Cream, Sheep's Milk Cream, Goat's Milk Cream, Sheep's Milk Cream, Goat's Milk Cream, Pasteurized Milk Cheese, Pasteurized Milk Cream, Fresh Cream Cheese, Cheese & Cream, Block Cheese, Grated Cheese, Sliced Cheese, Homemade Fresh Cheese, Homemade Fresh Cream, El Tampiqueño Cheese Products
---
CALL NOW AT (832) 206-1303 FOR A QUOTE, OR CONTACT US. El Tampiqueño Cheese Products is a family business dedicated to the production of typical regional cheeses and creams, which specializes in cheese, oaxaca cheese, grill cheese, Mexican cream and Salvadoran cream in different forms and sizes.
We cares personally and in detail each of the production process with the idea that each product is unique and made ​​with 100% natural product. If you prefer you can This email address is being protected from spambots. You need JavaScript enabled to view it.